PaperBackSwap Review
PaperBack Swap
is a site that allows users to swap unwanted books. It's as simple and as useful as it sounds.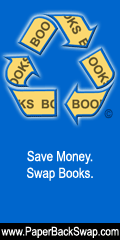 Note:If you're under 18, you'll need to get a parent to sign up for you. That fact did give me pause in recommending this service on a "teen" reading site. However, I've had such a good experience with PaperBack Swap, I couldn't help but spread the word.
When you first sign up at PaperBack Swap, you can receive three credits for posting nine books to trade. Each credit is good for requesting one book. It's sort of a way to try out the service and a thank-you for joining. After that, you receive one credit for each book you send to another user.
There is an extensive teen selection, along with comics/graphic novels, and a genre for every interest. I find it's easier to find a book to request if you have something in mind when you're searching. The site allows you to browse by genre, but there are so many books listed, you could spend hours paging through the lists.
If a book you would like isn't currently available, you can place it on your Wish List. Then if someone posts the book you want, you will be alerted. You may never find one, but you never know. When I signed up for the site, the first books I sent out fulfilled Wish List requests.
It's easy to list a book for trade. You just click on "Post Books" under your account options and enter the ISBN from the back of each book. Confirm you have the correct book and it's in proper trading condition, and you're ready to go. You can increase your chances of making a trade and earning credits by perusing the wish lists and trying to find wishes you can fulfill.
You must pay the postage for all books you mail out. Most books can be mailed via media mail for $2.23, and some of the lightest books can be mailed First Class for even less. There are no additional fees for trading books.
I've had nothing but good experiences with my trades so far. I've been able to find some books I've wanted for quite a while, like
The Wave
and a few
Gossip Girl
novels while clearing out my bookshelves a bit. The first few books I requested were in good condition, and they arrived promptly.
Oddly enough, right after I started writing this article, I did encounter a problem with receiving the wrong book, and receiving a book I hadn't requested. Both senders were really helpful, and they were more than accommodating in working out the problem. A site like
PaperBack Swap
relies on the honesty and the communicativeness of its members, and so far they've passed with flying colors.